As the nights begin to draw in and we get closer to Halloween, many adults and children find themselves drawn towards activities which border on the creepy and the kooky, mysterious and spooky.Adults will find a larger proportion of horror films available for them to watch both on TV and at the cinema whilst families often choose this time of year
to visit theme parks and scare experiences.
It, therefore, makes sense that many teachers will look at this time of year for providing reading matter which reflects this interest in the more frightening side of life. However, there is a question of how appropriate it may be for teachers to promote scary texts in the classroom.Should we really be encouraging children to seek out books which could potentially give them nightmares Actually,yes. Reading scary stories is a safe way for us all to face our fears and test our reactions to this within a safe setting.Horror fiction is an outlet to explore fears and anxieties, to feel exhilarated and excited by them.The good thing about scary fiction is that sense of artifice – we know it's not real and, therefore, know we can stop the narrative at any time by closing the book.It's also important for children to know what different emotions feel like and howto deal with them. Reading a spooky story can help to start conversations about coping mechanisms when feeling scared.Life (sadly) isn't always safe and comforting,so having experienced fear safely will only make us more equipped for what we may face in the future.Saying this, we do need to be mindful when thinking about sharing a book with frightening elements with the children in our class. Not all people enjoy the physiological changes that come with the sense of terror of a spooky stories.Some children may not have the most stable of home lives and for them, horror fiction may feel too real. We want to'thrill' children and get them excited about the possibilities of fiction. We don't want them to be too scared to sleep!Many scary books for younger readers have one foot firmly entrenched in the comedy genre. If the fear is ultimately diff used by humour, it's much easier for a young child to deal with. Just like the Boggart in the Harry Potter universe,laughter is a great way to overcome fear.Ultimately, it all comes down to knowledge:knowledge of the books you'r recommending, knowledge of what would be appropriate for that age group and knowledge of any issues that may bet triggered to a particular child.Here are a selection of spooky books
for your reading area or library:
The Apprentice Witch

James Nicol @JamesENicol
Dealing with the death of her mother whilst also starting anew school, The Apprentice Witch tells the tale of Arianwyn Gribble on her journey to become a proper witch. A book as popular with teachers as it is with young teens.
Gangster School 2
Kate Wiseman @KateWiseman The second installment in the celebrated Gangster School series,trouble is brewing at Blaggard's School for Tomorrow's Tyrants.Teenage adventure fun, it's got everything from a secret society,to a robot dog turned invisible superhero and so much more.
EYFS:

A Dark, Dark Tale – Ruth Brown
A Dark, Dark Tale uses repeated phrases to build the tension as we follow the black cat through the dark wood, into the dark house, down the dark stairs and to the surprise at the back of the toy cupboard.  This is a beautifully illustrated picture book with a lovely ending for young readers.
What's in the Witch's Kitchen – Nick Sharratt
A fun rhyming book with a lift-the-flap twist! The witch has a variety of different foods in her kitchen!  Children can lift the flaps in different directions to discover either a treat ("nice strawberry tea") or a trick ("nasty goblin wee")!
Ten Little Monsters – Mike Brownlow and Simon Rickerty
There's lots to spot and count in this fantastic rhyming picture book featuring the cutest ever versions of typical horror story monsters!
KS1:
I Want To Be in a Scary Story – Sean Taylor and Jean Jullien
Although the narrator tells him it may be a little too frightening for him, Little Monster insists that he wants to be in a scary story.  However, when he sees the dark and scary forest he starts to demand changes be made to the story. I Want To Be in a Scary Story  is a great way to begin conversations about what we find scary or funny.
The Hairy Toe – Daniel Postgate
Children will love joining in with the refrain "where's my hairy toe? Who's got my hairy toe?" in suitable creepy voices.  The brooding atmospheric tension leads to the inevitable jump scare, making a great model for how to structure a scary story.  It's also a great way to open conversations about how being scared can make us feel.
First Day at Skeleton School – Sam Lloyd
Even monsters need to go to school! In this colourful and funny rhyming book, we find out what games they play, what lessons they learn and even what they eat in the canteen! Children could spend a long time studying the map on the end papers and writing their own stories about what happens in each of the different rooms in the Skeleton School!
LOWER KS2:
The Worst Witch – Jill Murphy
First published in 1974, >The Worst Witch< has inspired several on-screen adaptations and become a modern classic.  Although there are slight creepy touches, underlying this tale of young witch's going off to boarding school is a message of friendship and loyalty.
There's a Werewolf in my Tent – Pamela Butchart, illustrated by Thomas Flintham
Izzy is excited to go on the school camping trip but when she and her friends get there they quickly realise that their teacher is actually a werewolf! Why else would she have such hairy legs? An absolutely hilarious take on werewolf lore.
Stitch Head – Guy Bass, illustrated by Pete Williamson
Stitch Head, the tale of the forgotten creation of a mad professor, has its basis in classic Gothic literature but is full of humour and warmth.  This is a fun, quirky story which is accompanied perfectly by the Tim Burton-esque illustrations of Pete Williamson.
UPPER KS2:
Coraline – Neil Gaiman
A modern day Alice in Wonderland tale, where a young girl travels through a hidden door in her new house and finds herself in an alternate universe where her 'Other Parents' have buttons for eyes.  Genuinely creepy but completely delicious.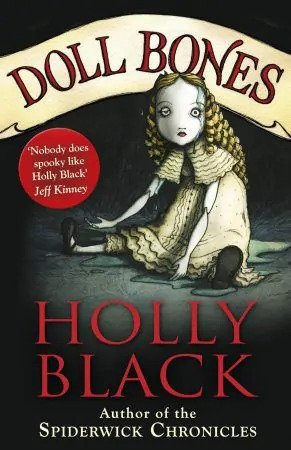 Doll Bones – Holly Black
When is the right time to stop playing with dolls? Zach, Poppy and Alice play every day after school until Zach's dad throws his action figures away, triggering a series of chilling events that no-one would have foreseen. >Doll Bones< is a beautifully written but creepy ghost story which also focuses on the transition from childhood to adolescence.
The Whitby Witches – Robin Jarvis
Recently released with a stunning new cover, >The Whitby Witches< is a modern classic piece of supernatural horror for young readers.  An atmospheric and spooky story where two children move in with their new foster mother, only to realise that there's more to her and her elderly friends that meet the eye.
KS3:
Lockwood and Co: The Screaming Staircase – Jonathan Stroud
When the dead come back to haunt the living, Lockwood and Co step in!  >The Screaming Staircase< is the first in a series of gripping and suspenseful novels about the Lockwood and Co Psychic Investigations Agency.
Tinder – Sally Gardner, illustrated by David Roberts
The stunning but frightening image on the cover reflects the beautiful writing but chilling nature of this reworking of Hans Christian Anderson's >The Tinder Box<.  >Tinder< is set in the time of the 30 Years War and tells of how Otto Hunderbiss is given a pair of shoes and a set of dice – a gift which will change his whole life.
Uncle Montague's Tales of Terror – Chris Priestley, illustrated by David Roberts
When Edgar visits his uncle he is regaled with a range of stories about the odd and curious objects in his house.  After a while though Edgar realises that the stories are getting more creepy, more frightening and that Uncle Montague may be more involved in these stories than he originally thought.  A fantastic range of eerie and chilling scary stories, linked with a connecting frame narrative.
KS4:
The Haunting – Alex Bell
The Haunting is the tale of an old Cornish inn called the Waterwitch, built from timber salvaged from a shipwreck of the same name, and the effect that it has on those who live there. We follow Emma, a young girl whose grandmother owns the Waterwitch and hasn't visited the area since the mysterious accident which left her unable to walk.
Grave Matter – Juno Dawson, illustrated by Alex T Smith
Alex T Smith's beautiful yet creepy black and white illustrations mean that this is a beautiful book to treasure as well as a cracking good read. >Grave Matter< has been printed on thicker paper in a dyslexia friendly font as part of Barrington Stoke's super-readable range of books.